The Knoxville Sunsphere was the theme structure for the 1982 World's Fair. It represents the sun, source of energy, and reflected the energy theme of the fair.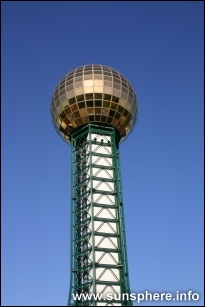 Project Started: November 1979
Construction Started: January 1981
Project Completed: 1982
Panes of Glass: 360
Total Glass Area: About 14,000 square feet
Restaurant Dining Capacity: 300 people

DIMENSIONS
Total Height: 266 feet
Tower: 198 feet (Hexagonal)
Sphere Diameter: 74 feet

SPHERE LEVELS
There are five levels of usable space
Level Five: Observation Level
Level Four: Upper Dining Level
Level Three: Lower Dining Level
Level Two: Kitchen / Private Dining
Level One: Observation Level

There is also a mechanical level at the top for elevator and HVAC equipment. There is a transition level at the base of the sphere that integrates with the tower.


Architect: Community Tectonics Architects
General Contractor: Rentenbach
Consulting Structural Engineers: Stan Lindsey and Associates (Nashville)
Consulting Electrical & Mechanical Engineers: West, Norris, Welch and Miller (Knoxville)

CONSTRUCTION FACTS
There are two 418-step fire stairs and three high-speed elevators contained in the tower.
During the period of the World's Fair, the tower's color was blue to match the color of the sky. The current color of the tower is forest green.
24-karat gold gives the panes of glass the reflective gold color. The panes of glass have vinyl film impregnated with gold dust laminated to them.
There is an insulating airspace between two pains of glass in each window section (one interior, one exterior). The top half of the sphere's outermost pane is tempered and the inside paine is laminated The bottom half of the spehere's outermost pane is laminated and the top half is tempered. This is why the top half of the sphere is not as reflective.
Each plane of glass cost $1,000 on the average at the time of construction.
During the period of the Worlds Fair, the restaurant was managed by Hardee's. The menu was greatly different from the fast food restaraunts. If you have a menu, please email e-mail us.